ACT IT OUT!
A Sunday School class for Kindergarten to Grade Six where we come together to learn to serve in our church. We will be practicing the New City Catechism, Bible verse, and action songs to present to our church on a regular basis. Children will be learning about GOD by examining the New City Catechism. Our class begins Sundays at 9:30 am until 10:15 am from September to June and all are welcome. Please bring your Bible and be prepared to have FUN!
For more information on ACT IT OUT please contact Pastor Jeff (368-2218)
KIDZ CHURCH
Kidz Church takes place starting @ 11:15 a.m. on Sundays. Children from Kindergarten to Grade 6 remain in the sanctuary for the time of worship through music before being dismissed to Children's Church where they enjoy a time of singing, Bible learning and memorization, and fun activities.

VACATION BIBLE SCHOOL
Every summer we run an exciting week-long Vacation Bible School with fantastic music, Bible memorization and learning, fun crafts, and yummy snacks! This is free and we welcome all children from Kindergarten through to 6th grade to join us.
For more information on Children's Church or Vacation Bible School please contact Beverly Farrer (566-5694).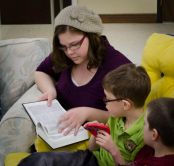 WEDNESDAY NIGHT KIDZ CLUB!
Kidz Club is a wonderful program for boys and girls from Kindergarten to 6th grade. Our goal is to teach boys and girls the importance of salvation through Jesus Christ and how to have a relationship with Him. Our club verse is found in Proverbs 3:5-6 and our club motto is: Learning about God, Using the Bible & Living for Jesus! Kidz Club meets Wednesday evenings @ 6:30 p.m. – 8 p.m. and runs from September – April each year.

For more information about KIDZ Club please contact Jana Arthurs (675-4421) or Cynthia Adams (892-1182).