Grace Baptist Church
Grace Baptist is a vibrant and growing church family committed to our mission as a Bible-centered ministry to glorify and worship God through the salvation of sinners and the discipling, edifying and equipping of God's people. Our vision is, "Love God, Love People, and Serve Others" based on the scripture found in Matthew 22:37-40.
THIS SUNDAY AT GRACE BAPTIST CHURCH
Sunday, May 19th, 2013
9:30 a.m. No ACTS of Grace classes and Act It Out this morning. Join us at 10 a.m. for free coffee and muffins!
10:30 a.m. Morning Service
Baby Dedication- "A Mother's Prayer, A Father's Leadership, and God's Response," 1 Samuel 1: Stephen Bray
6:00 p.m. - Evening Service
Genesis Series- "The Sabbath," Genesis 2:1-3: Jeff Eastwood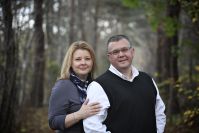 Thank you so much for taking the time to check out our church website. I trust you will find it easy to navigate and I invite you to contact us if you have any questions at all. But better yet, why not check us out in person for one of our Sunday worship services? Everyone is welcome and we are confident you will find it a comfortable place for each member of your family. We look forward to meeting you in person and getting to know you better.